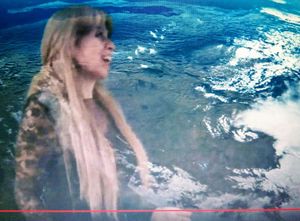 SINGING LESSON TESTIMONIALS BY/ABOUT   TEENAGERS & CHILDREN:
"I've been working with Marianne for about four years and I've just started on my Grade 5 Trinity Rock and Pop Vocals exam, having passed Grade 1 with Distinction, Grade 2 with Merit, Grade 3 with Distinction and Grade 4 with Distinction.  
Since I've started singing with her, she has massively improved both my skills and my confidence, and I have become much more relaxed with public performance.  
The techniques she has taught me are applicable to all kinds of styles and my singing lesson is always the highlight of my week."     
Ursy Reynolds, 16 years old
"We love singing with Marianne. When she teaches you, you don't just get to know her better, but you get to know yourself and your voice better. She brings humour and fun to the world of music ("Mr. Clicketty Cane" is one of our personal favourites!) and teaches it with a variety of tunes and songs - most of which will stick with you forever.  
Each one of her lessons is atoned perfectly to your personal musical abilities. You will mostly learn a new song every lesson, and go over others that you've learnt previously. Every song focuses on a different musical ability...... sometimes it is something you need work on, and sometimes it's just something fun.  
Groups and pairs are also catered for. Often it's a song in parts, and sometimes it's just a song for one; with Marianne, you will benefit from everything. She has ears like an owl, thus she can pick up every minor fault, and correct it in the kindest, least critical way.  
Some songs you'll love singing and you'll want it every day ("Kye Kye Kule" reference) but others you'll just want to practice for the sake of improvement.  
If you learn to sing with Marianne, you can be sure that you're doing the right thing.  
Whatever music you're into - if you just like to sing as a hobby, or if you want to become a singer, or if you just want to try something new, Marianne will cater for every kind of singer. Thank you."     
Alfie and Tom Arthur  
(Aged 9 and 11) 
"Eleena sang her first solo lead in front of the whole school and parents today in Minchinhampton Church. She did very well! What a difference it has made having her study with you!! ? She always refer to her lessons with you, too, with great enthusiasm!!                                                                  With much gratitude". Asta & Craig Pruess   ('Craig' is a composer, musician, arranger and gold & platinum record producer).
"The first thing that comes to mind when I think of my singing lessons, is that I would feel so happy afterwards and would sing all the way home, not really caring if anyone could hear me. I feel they helped me develop as a singer & I enjoyed it at the same time. Marianne is such a warm, understanding & encouraging teacher and I'm very thankful for my time with her."     
Wave Baldwin
"Marianne is a very calm lady. My 16 year old son looks forward to his lessons every week and really enjoys going. He has learnt a lot and is happy to listen to her views and advice.  
He loves the fact that he sings different types of music from classic show tunes to rock music."     
Pat Marfleet 
"Dear Marianne, I can't thank you enough for the last 5+ years - your unwavering support, constant laughs and fantastic teaching. I can't imagine anyone else I would rather have had (I think almost 200) lessons with. Thank you so much for everything". Ursy xx
Shona Ward's reference of Marianne's teaching (March 2017.)    "I work as a training consultant and work with businesses to help their managers communicate more effectively and build good working relationships across their organisations. 
I am also a singer in my spare time and I have known Marianne as a music and singing teacher for almost 10 years. I have seen her work with small groups and I have worked with her individually. I haven't seen her work with large groups although I have seen her perform in front of audiences and seen her sing at a funeral. 
From my own experience and observations I would say
Marianne's strengths were:
1. Being prepared and having a professional approach at all times 
I never came to session that she hadn't meticulously planned out in advance. She was always on time and ensured that the time we spent was focussed on learning. 

2. Friendly and supportive style 
Marianne was always working hard to support us in taking the next steps in learning and was always encouraging us to develop and not get complacent. She is very supportive and has the quality that I have seen in a couple of really good teachers in my time in that when mistakes are made, or when there are obstacles, she is always interested in finding a way to solve the problem- rather than making the student feel inadequate. I find myself saying to fellow singers who are struggling- 'There will be a reason that this is challenging, we just have to find a strategy that works for you' and I realise I am quoting Marianne. She is creative in finding ways around a problem and always encouraging her students to stick with things, even if they are challenging. She seems just as comfortable working with very experienced students as well as beginners and seems to easily adapt the levels needed. 

3. Has a good understanding of how children learn and how adults learn ( and how they are different) 
I saw her adapt materials that she had for children, for her sessions with my group and she would create varied, interesting lessons that incorporated different student's learning styles 

4. She listens and understands what is needed.
When she did some work with my singing group , she listened carefully in advance to what outcome was needed and questioned us to ensure she understood. She then focussed her time and attention of what we had asked for. She had a sensitivity to the needs of each individual and adapted what she said to provide the right level of support and challenge. 
In terms of weaknesses, I can't think of anything in particular. I think she doesn't sell herself hard enough and at times I think she can underrate herself. She is also a very individual character which for me is part of why I like to work with her. 
I know she has considerable experience working with children and adults and with the Waldorf community here in Gloucestershire. I imagine she would be good at working with an international student group as well".
 SINGING LESSOn TESTIMONIALS
BY ADULTS:
"I can't believe the improvement in my singing that has come about since I first started working with Marianne. She has a relaxed and encouraging manner that puts you at your ease immediately and, while always being positive and supportive, she can quickly identify specific issues and has a plethora of ingenious exercises to help resolve them. 
Her methods target the needs of the "whole singer" - posture, breathing, resonance, tonality, diction, etc. - with attention to the fine detail of producing the best sound possible. 
As a result I have gained a much better understanding of how my own voice works and of its capabilities, which has in turn led to a huge increase in my confidence. 
A truly inspirational teacher!"    
Jim Rowley
"I love learning with Marianne. I feel relaxed and have fun, and she is able to highlight areas needing improvement without making me feel judged. 
She encourages me to make the best of my own voice and talents - high mezzo-soprano, post grade eight, focused on folk and traditional music - rather than trying to push me in directions which do not suit me. 
She has helped me to work on performing my own original songs, and has given me some invaluable guidance about how to sing well in difficult situations. 
We are experimenting with other styles and other languages... watch this space!"    
Alex West
After a lifetime of being out in the cold, having been told from a young age that I couldn't/shouldn't sing, Marianne has given me the confidence and self belief to enjoy using my voice to make music. Whatever my doubts and frustrations along the way, however stuck I get, she always has a way to help me make the next step. 
I leave every lesson with something new, and with more joy in my heart. She teaches with fun and kindness, - and with just a little bit of strictness when that is necessary! 
To give someone the gift of self expression is a truly special thing. 
Thank you so much, Marianne."    
Roger Haynes   
"I went to Marianne when I had a crisis of confidence after many years of singing in choirs without ever really knowing if I was doing it approximately right or making a complete mess of it. 
Marianne restored my confidence and more - she showed me that my range was much bigger than I thought, helped me with breathing and taught me how to produce a better sound. 
I also wanted to improve my sight-singing, so joined her Musicianship class which has been enjoyable and useful and challenging in equal measures. 
She knows so much about music theory but the classes are very much based on practical work with a fun approach so it does not get overwhelming and my confidence in sight-singing is definitely increasing."    
Caroline Crook 
"I never thought I could sing, but I was determined to give it a try. 
Marianne guided me from the very beginning and I was amazed how quickly I could see the results of her work. Whenever I reached an obstacle she would try different solutions until we found the one that suited me best. 
I felt very comfortable at Marianne's lessons and she took a very holistic approach guiding me through my posture, breathing, voice, tonality, diction, music and interpretation. 
I would certainly recommend Marianne as an excellent singing teacher."    
Malcolm Mallia 
"A while ago my partner bought me some singing lessons with Marianne. 
I needed my confidence boosting, that I did have a voice there somewhere. I belong to a Morris side in Stroud, Gloucestershire and often we'll have music/song sessions after a dance out, I sit there contributing very little.....hence the singing lessons. 
I have to say I still haven't plucked up the courage to sing in public but the lessons I had with Marianne were invaluable. We started the lessons with warm up exercises in which Marianne would take part too, to provide support and demonstration, she also used the piano to provide a note to start or as a support to your singing if needed. 
It was useful to go along with a song that I enjoyed and felt I would like to sing. She also helped me to see the importance of expression in my voice, when singing. Marianne, is instructive, encouraging,informative and has a great sense of humour. A delight!"    
Julia North-Lewis 
"I started going to Marianne for singing lessons in Oct.2016, and she has been fantastic! I'd never had lessons before but wanted to find out more about my vocal abilities and what I could do to improve my voice, and more importantly my confidence. She is extremely knowledgeable but at the same time very patient - it didn't matter that my music reading skills were very poor or that I didn't really know what direction I wanted to go with my singing, she always worked with me and I have learned so much from her."
Annie Traynor
"Marianne did extremely well to cover such a big subject so well in 2 sessions. 
She used a variety of exercises and games which gave us experiences of using our voice in a better way. She was well prepared with handouts and balance to the session.
Wonderful experience of realising voice is a tool. Learnt some fun warm-ups, playing with the voice, very interesting to learn some of the mechanical processes of the voice. 
The individual coaching was such a treat. I realise the importance of staying grounded while singing high. Opening mouth, not blocking throat with tongue. 
A very useful lesson on both occasions."     
Kindergarten Trainee student feedback after a half day of group voice work sessions.
"Very inspiring and confidence building. A bit nerve wracking but she is an excellent teacher. 
I have been noticing that during our morning sessions with other classes and teachers that I get breathless. 
During our sessions with Marianne, we dealt with that - doing lots of breathing exercises. It was helpful and I felt comfortable. I could breathe more freely afterwards. 
Marianne confirmed that my singing voice is soprano, however, I need to bring more "body", more strength into it. This was the stone in my shoe. Now I know that I can really improve. What a discovery and joy for me. 
I will work on my voice with a teacher as soon as I have the opportunity. Very important for me, this class. 
Excellent. What an amazing teacher who gave us so many useful exercises, suggestions of voice games we could do with children, ways of working on our own voice."     
Kindergarten Trainee student feedback after a half day of group voice work sessions.
"Marianne's singing story is very inspiring and Marianne herself is a very warm person and supportive singing teacher. She genuinely loves music and it shows in her lessons. She gives you all the space that you need and at the same time gently helps you to discover and learn new layers about a song in each lesson thus giving you confidence and making you feel good about yourself and your singing."    
Vlatka Derencinovic 
"Marianne - you are a singing angel. You are the sunshine which drives away my fear of singing (translation from Chinese writing)"      
Penny, Ghangzhou, China  
"This was fantastic. Very helpful. I got a lot out of it. Amazing again - ways I can work with my voice."     
Kindergarten Trainee student feedback after a half day of group voice work sessions.
"Marianne is a lovely teacher and makes the lessons fun and interesting. 
They were much better and I learned many more things than I expected."    
Stan 
"Marianne, Thank you so much for your warm and loving teaching, singing & fun spirit - 
Keep running!"    
Love Jane Martine 
"Dear Marianne, 
Thank you for your practical and reassuring presence, teaching and beautiful singing." 
Love Jane Gillie